UPS Weather Alert
FedEx Weather Alert
USPS Weather Alert
---
For current USPS service alerts, Click Here
Please note: UPS has modified the service guarantee due to Covid-19.
For more information from UPS Click Here
Please note: FedEx has modified the service guarantee due to Covid-19.
For more information from FedEx Click Here
If you have any questions or concerns please click the "Contact Us" link or give us a call at 1-800-359-1334.
General Information
PressFittings ships most items via FedEx and some smaller parts, especially small repair parts orders by USPS (US Postal Service). Some larger items require trucking service. These items will be indicated on the product page with a notation that the shipment is "subject to a shipping charge". Buyers will be contacted directly regarding the projected freight on such items.
In general, you can review the transit map below to calculate your order receipt date.
PressFittings ships most ground service orders the same day if the order is received before 5:00pm Eastern Standard Time. PressFittings ships from the East Coast, near Philadelphia. Check the map below for the expected delivery time to your shipping address or click the "Contact" link and tell us your zip code and what you plan to order. PressFittings will let you know how long the expected delivery time will be.
PressFittings can not be held responsible for missed dates due to FedEx, UPS, USPS or any shipping company issues such as labor, weather and natural disaster.
Shipping delays can occur due to severe weather conditions and other "acts of God". FedEx, UPS and the US Postal Service make every effort to deliver despite bad weather conditions, but if the airports are closed there will be delays for which PressFittings cannot be held responsible.
If a delivery is refused, a 15% restocking fee would apply upon receipt of the refused package.
If a delivery address needs to be changed or modified, PressFittings must be notified and the customer will be billed accordingly.
Orders can not be shipped on a customer FedEx, UPS or DHL account.
Free Shipping & Factory Direct Shipments
Most orders over $99 will be shipped for free via FedEx, UPS or USPS standard ground service. PressFittings must charge for shipping to Alaska and Hawaii unless the parcel can go via the US Postal Service. Large and heavy items will be quoted. Shipping to Canada is not free.
If the original order qualified for FREE SHIPPING, a minimum of a 15% handling fee will be deducted from the original invoice total for all refunds and returns.
On all factory direct shipments, either FedEx or UPS will be utilized as the carrier. USPS First Class Mail and USPS Priority Mail are not available for factory direct shipments.
Export Orders
PressFittings will ship orders to Canada and US Territories via UPS. Taxes and tariffs, when applicable, are the sole responsibility of the buyer. For international orders, prior to processing, PressFittings requires a wire transfer of funds for payment and orders submitted for credit card payment will not be processed and you will be contacted to arrange for payment. PressFittings must ship using YOUR FedEx, UPS or DHL account. There is a $50 handling fee added to cover our bank's wire transfer fee and the export documentation paperwork.
PressFittings regrets any inconvenience this may cause, but due to fraudulent transactions in the past we must handle export orders in this manner and these terms and conditions are non-negotiable.
If you'd like to proceed please place the order online and you will be contacted. Once funds are confirmed PressFittings will ship within 24 hours via the FedEx, UPS or DHL account number provided. Alternatively you can contact PressFittings via the contact page found
here
and we will get back to you promptly.
UPS Shipping Map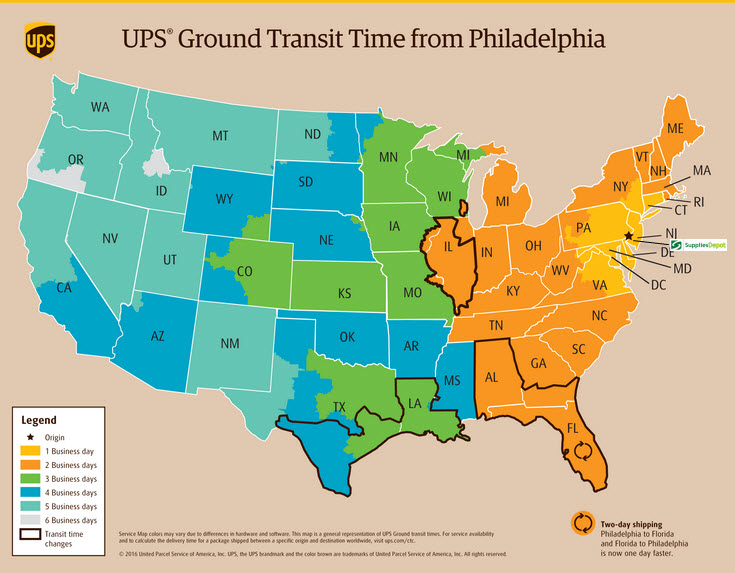 USPS Shipping Map